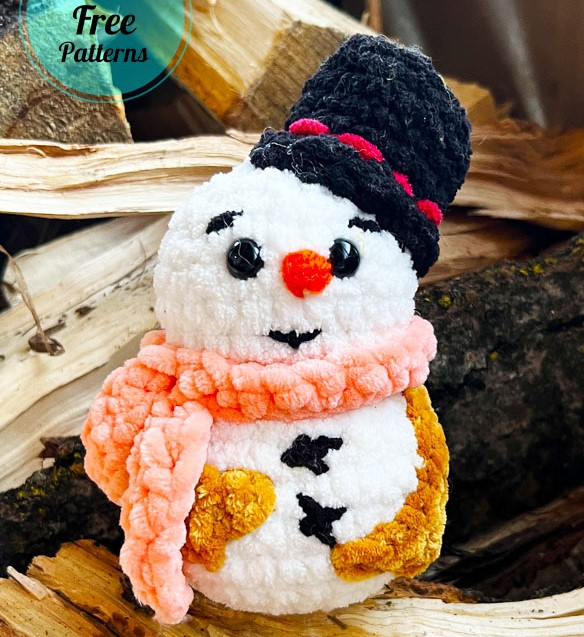 Cute Crochet Snowman Amigurumi Free Pattern
Hello my visitors who love to knit amigurumi. In this article, I share new amigurumi patterns for you free of charge. To knit free amigurumi patterns, it will be enough to follow the terms I shared for you. You can delight your children with amigurumi toys.
Crochet Terminology:
Rnd- Round
MR – Magic Ring or can do the chain 2 method.
Rep – Repeat.
Sc- Single Crochet.
(6) – Indicates Number of stitches at the end of the round.
CH- Chain.
Inc – Increase.
Dec – Decrease.
F.O. – Fasten off.
St- Stitch.
( 2 rnds) Indicates how many rnds for that row to crochet
Materials Needed:
Yarns I used, Bernat blanket, Chenille home slim (loops &threads) , 4ply wonted weight.
Crochet hook used 5/H mm clover
Stitch Marker
Scissors
Darning Needle
Poly-fill
18 mm safety eyes
Body and Head worked in continuous rounds:
Rnd 1- Mr. 6 (6)
Rnd 2- 2x sc (12)
Rnd 3- (sc, inc) (18)
Rnd 4- (sc x2, inc) (24)
Rnd 5- (sc x3, inc) (30)
Rnd 6- (sc x4,inc) (36)
Rnd 7-9 (sc around) (36) (3 rounds)
Rnd 10- (sc x4, Dec) rep (30)
Rnd 11- (sc x3, Dec) rep (24)
Rnd 12- (sc x2, Dec ) rep (18)
Rnd 13- (sc x3, inc) rep (24)
Rnd 14-17 (sc around) rep (4 rounds)
Place safety eyes between rnds 17-18 and 3 stitches apart
Rnd 18- (sc x2, Dec) rep (18)
Rnd 19- (sc, Dec) rep (12)
Rnd 20- (Dec around) (6)
F.0 and close circle and weave in ends.
Arms x2:
Chain 8, slst in second chain from hook, chain 3, slst into the second chain and slst into the last chain of 3, Slst down to the last chain. Tie off
Place arms where you feel they look good and then sew around the edge of the arm.
Scarf:
Chain 40, sc in second chain from hook and continue down the chain (39)
Wrap around neck and sew the middle to keep it in place.
Nose (Will be easier if you use 4ply worsted weight yarn):
Weave around the middle between the eyes a couple times to build it up some, now you will insert as if you were going to do another loop, as you pull your needle out, wrap the yarn around the needle and pull the yarn to form a peak. It might be tricky so pull slowly not to break your yarn. Do this step 2 times, or until you like the look of your nose.
Hat:
Mr. 8 sc in ring
Rnd 2- (2x sc around) (16)
Rnd 3- Blo sc around (16)
Rnd 4-6 (sc around) (16) (3) rounds
Rnd 7- fib (sc,inc) slst to the first st (24)
F.0 leaving a long tail for sewing hat on. Stuff hat to keep the shape.
Optional weave in a different color yarn for color
Eyebrows:
Insert your yarn below the eye and then to the leave you want your eyebrow, form how you like then go under to the other side and do again. Don't cut off we're going to make the mouth.
Mouth:
insert to where you want your mouth then bring your yarn across then insert your yarn to form a V making sure your needle is on the opposite side so it will catch the yarn so it doesn't make it make a straight line.
Make 2 buttons, insert yarn on a diagonal and then go across, then insert yarn under and poke through to opposite diagonal and go across to form an X, repeat on next button.
Congratulations
More Amigurumi Snowman Ideas