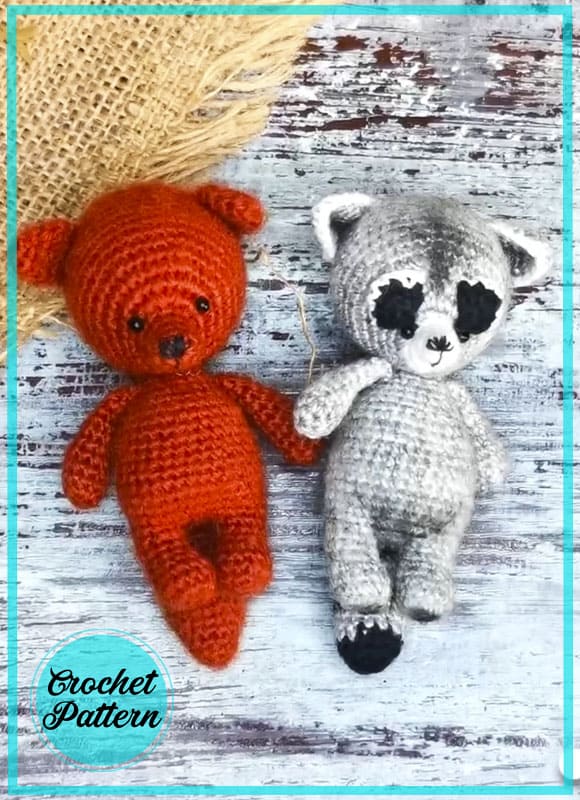 Amigurumi Raccoon and Bear Keychain Crochet Pattern
Hello my visitors who love to knit amigurumi. In this article, I share new amigurumi patterns for you free of charge. To knit free amigurumi patterns, it will be enough to follow the terms I shared for you. You can delight your children with amigurumi toys.
Materials :
1. Yarn 2 shades. (100gr, 450-480m)
2. Hook (1.25 size.)
3. Scissors
4. Stitching needle
5. Filler for toys.
6. Eyes (beads size # 3)
7. yarn for embroidering the nose.
8. Filler.
The size of our toys is 8-9 cm. (It all depends on your knitting density and which crochet yarn you have chosen).
Abbreviations:
AR – Amigurumi Magic ring
MR – Amigurumi Magic ring
App – application
sc : Single Crochet
inc : Increase
dec : Decrease
tr : Triple Crochet/ Treble Crochet
st: Stitch
dc : Double Crochet
hdc: Half Double Crochet
sl-st : Slip Stitch
ch : Chain
..in : make increase into same stitch as many as the number which is given in front of "inc" abbreviation (exp; 3inc, 4inc..).
FLO : Crochet into front loops only
BLO : Crochet into back loops only
BL : Bobble Stitch – do 5dc all in the same stitch and then yarn over and pull through all the loops on your hook (the original loop + 1 loop for each partially completed dc)
Head:
1Rnd: 5 amigurumi ring. (white yarn)
2Rnd: 2sc, inc, 2sc (6sc)
3Rnd: (sc,inc)*3 (9sc)
4Rnd: (2sc, inc)*3 (12sc)
5Rnd: No change (12sc)
6Rnd: change the yarn to gray. no change
7Rnd: (1sc+ inc)*6 (18sc)
8Rnd: 6 sc, 6 inc, 6 sc (24sc)
9Rnd: 7 sc, (inc+1sc)*5, inc, 6 sc (30sc)
10Rnd: (4sc +inc)*6 (36sc)
11Rnd: (5sc+inc)*6 (42sc)
12-20Rnd: No change (42sc)
21Rnd: (5sc-dec)*6 (36sc)
22Rnd: (4sc-dec)*6 (30sc)
23Rnd: (3sc-dec)*6 (24sc)
24р (2sc-dec)*6 (18sc)
25Rnd: (1sc-dec)*6 (12sc)
It's good to stuff your head with holofiber.
26r. 6 decreases in a row.
Close the ring.
Ears 2pcs:
1Rnd: 6 MR (gray yarn)
2Rnd: (sc, inc)*3 (9sc)
3Rnd: (2sc,inc)*3 (12sc)
4-5Rnd: No change ..
Tie the sides of the ears.
Then tie the ears with white yarn!
Arms (2pcs):
1Rnd: 5MR
2Rnd: inc (10sc)
3-4Rnd: No change (10sc)
5Rnd: dec, 8 sc (9sc)
6-10Rnd: No change (9sc)
fill arms, halfway.
Tie 2 sides of the arms.
Tail:
1Rnd: 6 MR (starting with black yarn)
2Rnd: (sc,inc)*3 (9sc)
3Rnd: (2sc,inc)*3 (12sc)
4Rnd: Change the color of the yarn to gray (3sc,inc)*3 (15sc)
5-6Rnd: No change
7Rnd: Black yarn (15sc)
8-9Rnd: gray yarn (15sc)
10р (3sc,dec)*3 (12sc)
11р . black yarn (12sc)
12-16р no measure, gray yarn.
Stuff the tail – to the middle, tie the sides.
Legs + body:
We connect the legs with 4 air loops.
1Rnd: we knit without change (28 sc)
Why 28? – (10(leg) +4 (distance between legs)+10+4)=28sc.
2Rnd: We crochet 24sc, 4inc (32sc)
The increase falls on the tummy of the toy (in front).
At this stage, you need to fill our legs (with holofiber)
3Rnd: You need to make 4 increments! Arbitrarily along the entire 3rd row.
4-11Rnd: We crochet without change in a circle (36sc)
(between 6-7 row we knit a tail)
12Rnd: (4sc-dec)*6 (30sc)
13Rnd: No change (30sc)
14Rnd: (3sc-dec)*6 (24sc)
15Rnd: No change (24sc)
16р.(2sc-dec)*6 (18sc)
17Rnd: In this row, we knit handles parallel to the legs.(18sc)
18Rnd: No change (18sc)
We make a fastening yarn, leave a piece for sewing on the head.
We fill the body well – with holofiber.
Eye spots (raccoon):
Making MR 6.
Then: a lifting loop (we unfold the knitting) and knit the columns in height!
We knit into the second loop:
• Column without crochet
• Half-column (strong column)
• Column with crochet.
• Half-column (strong column)
• single crochet
Then tie with white yarn.
Decor:
• Embroider the nose with black yarn.
• Sew on eyes
• Sew the ears between 18-19 r, the distance between approximately 11-12sc.
The last thing left is to sew the head on.
Tilt the muzzle slightly forward so that the nose looks down.
Fix the head with needles, and sew in a circle.
Optionally, you can blend the toy with a black bed (ears, forehead, tummy)
Congratulations
More Amigurumi Raccoon And Bear Ideas