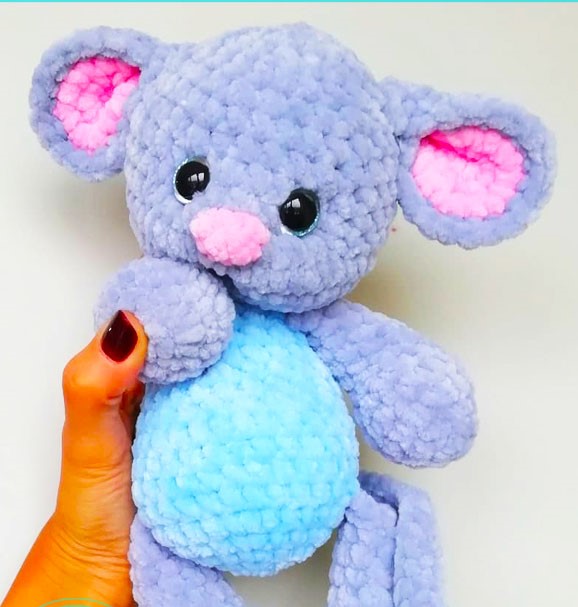 Cute Plush Velvet Mouse Amigurumi Free Pattern
Hello my visitors who love to knit amigurumi. In this article, I share new amigurumi patterns for you free of charge. To knit free amigurumi patterns, it will be enough to follow the terms I shared for you. You can delight your children with amigurumi toys.
Materials:
When crocheting, I used hook #4. Himalaya yarn dolphin baby. For convenience, use a marker.
Abbreviations:
AR – Amigurumi Magic ring
MR – Amigurumi Magic ring
3in1 – crochet 3 columns in one loop
sc : Single Crochet
inc : Increase
dec : Decrease
tr : Triple Crochet/ Treble Crochet
st: Stitch
dc : Double Crochet
hdc: Half Double Crochet
sl-st or Slst: Slip Stitch
ch : Chain
..in : make increase into same stitch as many as the number which is given in front of "inc" abbreviation (exp; 3inc, 4inc..).
FLO : Crochet into front loops only
BLO : Crochet into back loops only
Legs (two parts)
Starting with a pink yarn
1 Rnd: 6 sc in MR
2 Rnd: 6 inc = 12 st
Change to gray yarn
3 Rnd: (1 sc 1 inc) *6 =18 st
4 Rnd: 18 sc BLO
5-6 Rnd: 18 sc
7 Rnd: 4 dec. 10 sc =14 st
8 Rnd: (5 sc 1 dec.) *2 =12 st
9 Rnd: 12 sc
10 Rnd: (4 sc 1 dec.) *2 =10 st
11-12 Rnd: 10 sc
We stuff the bottom of the foot tightly, and the top is loose.
We fold, sew together the edges of 5 sc, cut the yarn, fasten, hide.
Note: When sewing, make sure that the legs look a little at the tummy with decreases, i.e. there is a slight clubfoot effect 🙂
Accordingly, either untie a couple of loops in the last row or, conversely, make a couple of offset loops.
Handles (two parts)
gray yarn
1 Rnd: 5 sc in MR
2 Rnd: 5 inc = 10 st
3 Rnd: (1 loop 1 inc) *5 =15 st
4-5 Rnd: 15 sc
6 Rnd: 4 dec 5 sc = 11 st
7 Rnd: 1 sc 1 dec 8 sc =10 st
8-11 Rnd: 10 sc
We do not stuff very tightly.
We fold, sew together the edges of 5 sc, cut the yarn, fasten, hide.
Note: When stitching, keep in mind that the foot is reduced to the body.
Ears (2 parts)
The first piece is pink
1 Rnd: 6 sc in MR
2 Rnd: 6 inc. = 12 st
3 Rnd: (1 sc 1 inc.) *6 = 18 st
Connecting column Cut the yarn.
Next, we crochet the same detail in gray, but do not cut the yarn! We put a pink part on top of the gray part, insert the hook into the place of the connecting column of the pink part and into the next gray loop, crochet the parts together further:
(2 sc 1 inc.) *6 = 24 st
Next, fold the ear in half and crochet both sides together for 3 sc.
We cut the yarn (leaving a little for sewing the ear to the head), we fix it.
Similarly, we crochet the second ear.
Tail
We collect 26 ch. We crochet, starting from the second loop 25 sc.
We fix the yarn, cut it, leave a little length for sewing.
Body-Head
We start with a blue (or any color) yarn
1 Rnd: 6 sc in MR
2 Rnd: 6 inc = 12 st
3 Rnd: (1 sc 1 inc) *6 =18 st
4 Rnd: (2 sc 1 inc) *6 =24 st
5 Rnd: (3 sc 1 inc) *6 =30 st
6 Rnd: 4 sc 5 sc with left leg 12 sc 5 sc with right leg 4 sc
7-9 Rnd: 30 sc
10 Rnd: 8 sc (1 sc 1 dec) *5 8 sc =25 st
11 Rnd: 25 sc
12 Rnd: (3 sc 1 dec) *5
13 Rnd: 20 sc
14 Rnd: 8 sc 1 dec 1 sc 1 dec 1 sc 1dec 4 sc
15 Rnd: 4 sc 5 sc with left handle 3 sc 5 with right handle Stuff as you crochet.
We pay special attention to the tummy 🙂
16 Rnd: (2 sc 1 dec) *4 1sc =13 st
17 Rnd: 1 dec 11 sc = 12 st
We change to a gray yarn.
We begin to crochet a head.
18 Rnd: 12 inc = 24 st
19 Rnd: (1sc 1 inc) *12 = 36 st
20 Rnd: 17 sc (1 inc 1 ст) *6 7 sc = 42 st
21-22 ряда. 42 st
23 Rnd: 22 sc 6 dec 8 sc = 36 st
24-25 Rnd: 36 sc
26 Rnd: (4sc 1 dec) *6= 30 st
27 Rnd: 30 sc
28 Rnd: (3sc 1 dec) *6= 24 st
29 Rnd: 24 sc
You can insert eyes at this stage. Approximately between 24 and 25 rows.
30 Rnd: (2sc 1 dec) *6= 18 st
31 Rnd: (1sc 1 dec) *6 = 12 st
31 Rnd: 6 dec
Pull the hole, fasten the yarn and hide.
We make a tightening of the eye, in the photo the left eye, the right one is done in the same way. Sew ears, tail.
We embroider a spout, you can use plush, or you can use cotton yarn.
Congratulations
More Amigurumi Mouse Ideas