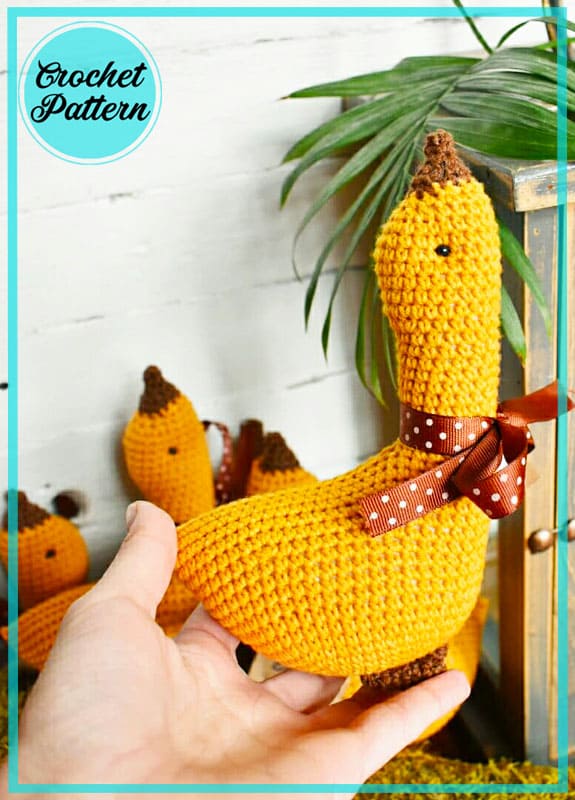 Amigurumi Goose bird Crochet Free Pattern
Hello my visitors who love to knit amigurumi. In this article, I share new amigurumi patterns for you free of charge. To knit free amigurumi patterns, it will be enough to follow the terms I shared for you. You can delight your children with amigurumi toys.
Abbreviations and materials :
AR – Amigurumi Magic ring
MR – Amigurumi Magic ring
App – application
ll – lift loop
sc : Single Crochet
inc : Increase
dec : Decrease
tr : Triple Crochet/ Treble Crochet
st: Stitch
dc : Double Crochet
hdc: Half Double Crochet
sl-st : Slip Stitch
ch : Chain
..in : make increase into same stitch as many as the number which is given in front of "inc" abbreviation (exp; 3inc, 4inc..).
FLO : Crochet into front loops only
BLO : Crochet into back loops only
BL : Bobble Stitch – do 5dc all in the same stitch and then yarn over and pull through all the loops on your hook (the original loop + 1 loop for each partially completed dc)
YOU WILL NEED:
YarnArt Jeans yarn (mustard color) is the main color of the toy;
YarnArt Jeans yarn (chocolate color) for beak and legs;
A piece of brown ribbon for a bow;
Filler – holofiber;
Hook number 3-4;
Beads are black for the eyes;
Scissors;
Needle for stitching parts.
BODY, NECK, HEAD:
We begin to knit with mustard color from below, then move on to the neck and head.
1. 6 sc in MR (6);
2. 6 inc (12);
3. (sc, inc)*6 (18);
4. (2 sc, inc)*6 (24);
5. (3 sc, inc)*6 (30);
6. (4 sc, inc)*6 (36);
7. (5 sc, inc)*6 (42);
8. (6 sc, inc)*6 (48);
9-15. 48 sc;
16. (7 sc, inc)*6 (54);
17. (8 sc, inc)*6 (60);
18-21. 60 sc.
Next, we fold the resulting part in half and connect the two sides together with connecting posts.
We crochet 21 connecting posts. We fill the goose's body through the remaining hole. Next, we will shape the neck.
22. Knit around the remaining hole 18 sc;
23-33. 18 sc;
34. At the beginning of the row, make 4 increments in a row (in order to form the head), continue row 14 sc;
35-41. 22 sc;
42. At the beginning of the row, we make 4 decreases in a row (to move on to knitting the beak), continue row 14 sc;
43. (1 sc, dec)*6 (12).
In the course of knitting, we stuff the neck of the goose with holofiber.
Change the thread of the base color to chocolate or whatever color you choose for the beak.
44-45. 12 sc;
46. 6 dec (6);
47-48. 6 sc;
49. 3 slst.
LEGS:
We crochet with yarn of the same color as the beak. We make two parts.
1.6 sc in MR;
2-6. 6 sc.
Sew the legs in the lower part of the body. Sew the eyes symmetrically on both sides, making a tightening. Tie a ribbon or lace bow around your neck for decoration.
Congratulations
More Amigurumi Goose Ideas